Queensland Wind and Brass consists of amateur and professional woodwind, brass and percussion players aged upwards from Year 12 students. AMEB Grade 7 level standard is highly desirable, and experience playing in another ensemble is strongly desired. Acceptance into Queensland Wind and Brass will be based upon musical ability and current instrument availabilities. Applicants may be required to demonstrate their musical ability individually for the Musical Director, as well as a part of the ensemble.
In 2021, there is a particular need for percussionists, trombone, euphonium, bassoon, and oboe players.
New members are always welcome, as are any former members that wish to give QWAB a try again. QWAB rehearses on Tuesday evenings in Bowen Hills, Brisbane.
If you are interested in joining QWAB, please fill out a membership application form. New players interested in joining QWAB are requested to email secretary@qwab.com.au for a current copy of the Players' Handbook and Code of Conduct.
For a detailed description of membership expectations and costs, please download the 2021 Membership application form. For any enquiries, please contact QWAB.
Why choose QWAB?
Queensland Wind and Brass is more than just an ensemble. The QWAB community offers a number of unique opportunities, dedicated to making your musical journey as enjoyable as possible.
Themed concerts
Queensland Wind and Brass organises three major themed concerts a year, and while many are formal events, occasionally we go all out in full fancy dress!. Dress up as your favourite animated or storybook character, bedazzle the audience as a wicked witch or time traveller, or showcase your elegant Broadway style.
Some recent themed concerts:
A Royal Affair
Fright Night III
Animation Sensations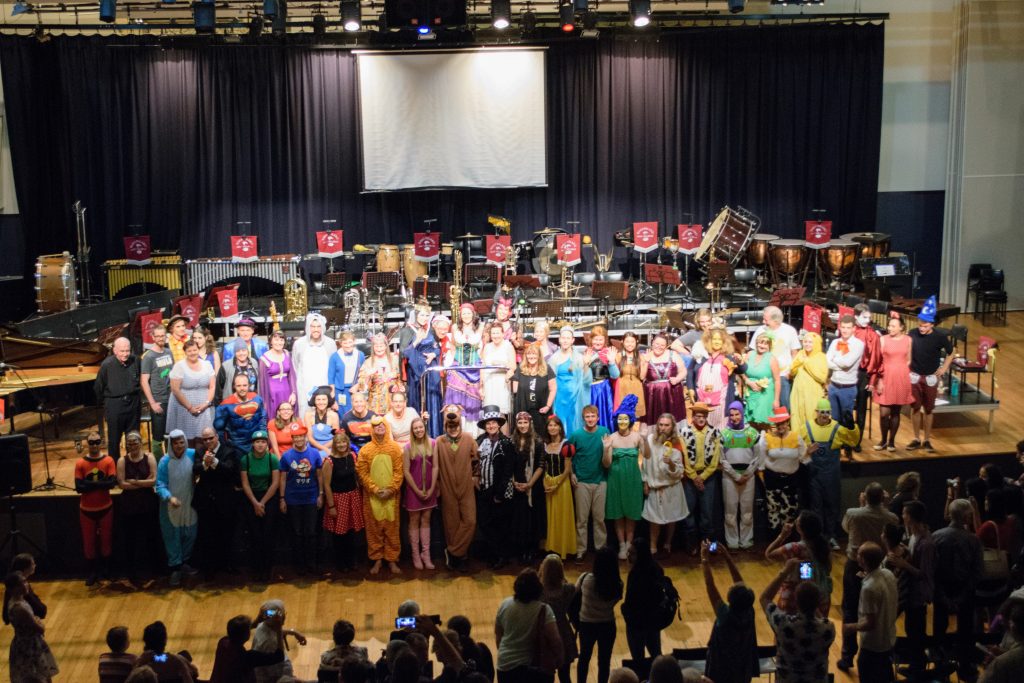 Partnerships and supporting local music
QWAB partners with other local musical ensembles, by hosting joint concerts. We also support musical development in Brisbane by participating in open rehearsals, conducting and professional musical development workshops and performing at local schools.
Some recent examples:
Into the Wild – co-hosted with Ignite Choir
To the Stars – with The Birralee Singers
Write/conduct for QWAB
A selection of QWAB's members support the band by guest conducting. The ensemble has also offered opportunities to excelling students/band members to have their compositions and arrangements played by the talented musicians of Queensland Wind and Brass.
Some recent examples of original compositions and arrangements:
Our Emerald Isle – composed by Nicholas Rogers
Imagine – arranged by Josephine Rogers